Trend Alert: The Orange Lip
By Sydney Jow — July 21, 2014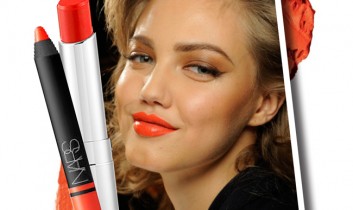 (Dsquared2 Spring/Summer 2014 Photo Source: GoRunway.com)
With Summer ablaze, it's time to break out some new, exciting trends. This season the orange lip is making a strong, bold, unapologetic comeback. It's an intriguing twist on the classic red that's sure to turn heads!
A huge part of rocking any bold lip, but especially orange, is matching a shade that works well with your skin tone. Orange has the appeal of warming up any complexion and adding a bright statement to your look!
If you're relatively neutral or pink toned – lucky you! Any shade of orange is likely to compliment your skin. Both warmer yellow tones and red oranges will look great. Make sure to choose a product that pops against your skin tone, if it's too light your lips may start to blend in with the rest of your face.
As for yellow and olive complexions, try and stay away from yellow-oranges, they can wash you out or even make you look a little sickly. This is because the yellow in the orange and the undertones of your skin clash. Try heavy red-based oranges for the best results.
Ways To Rock This Trend
Sheer…
If you're a little less daring or just starting to ease into this trend – wearing a sheer wash of orange on the lips can be a great way to add some color to a fresh face. Pair it with dewy skin, a coral blush, and some mascara for a bright, playful look.
Try these products for a more low-key orange lip:
Clinique Chubby Stick in Oversized Orange
Revlon ColorBurst Matte Balm in Audacious
Sephora Brand Rouge Shine Lipstick in No. 26 Love Poems
YSL Rouge Per Couture Vernis À Lèvres Glossy Stain in Orange de Chine
Bold…
In your face, intense color! A bold statement lip can make your lips your greatest accessory. Rocking an opaque, bright orange lip is about as fierce as it gets. First thing's first, make sure you wear a lip liner! As with any bold lip, you want your lines precise and your color long wearing. And as for the rest of the look? Blush is necessary for most people, as bright lips can leave the rest of your face washed out. Stick to soft coral or peach blushes to compliment the orange.
There are a few options for the eyes, try bold black winged liner or a neutral smokey eye for a perfected glam look. And if you're really adventurous, rock your bold orange lip with completely bare eyes for a stunning, modern effect.
Check out these lippies if you're looking to go full-on orange!
Mac Morange Lipstick and Lipglass
Nars Satin Lip Pencil in Timanfaya
OCC Liptar in Kimber
Stila Color Balm Lipstick in Valentina
Whether it's on the runway, red carpet, or city streets, this trend is sure to take the beauty world by storm. How will you be wearing your orange lip this season?
SHOP THIS STORY
About Author